REALTORS® Make NAR RPAC Hall of Fame
April 9, 2018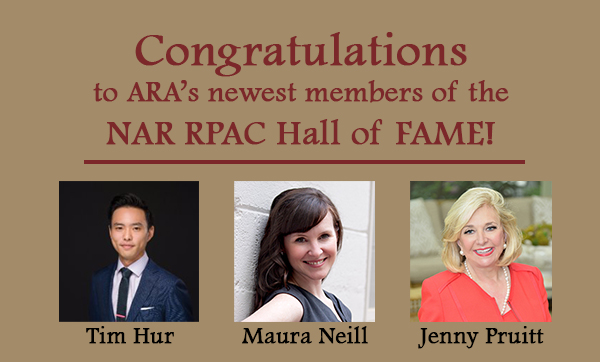 Congratulations to Tim Hur, Maura Neill and Jenny Pruitt for being inducted into the latest class of NAR RPAC Hall of Fame!
The NAR RPAC Hall of Fame recognizes dedicated members whose RPAC investments total an aggregate of at least $25,000. Members are inducted at member meetings in May in Washington, D.C. and are recognized with a lapel pin, an inscription of their name on a plaque on the National Association of Realtors®' Washington, D.C. building rooftop, and a plaque commemorating their support.
The first RPAC Hall of Fame class was inducted in 2002 and contained only 22 Realtors®. Across the country, nearly 700 individuals have been inducted into the RPAC Hall of Fame. We applaud Tim, Maura and Jenny for their dedication and stewardship to the Realtor® cause!
About the PBOR Market Brief
The Paulding Board of REALTORS® (PBOR) Market Brief is compiled by First Multiple Listing Service (FMLS). For more information on details of this month's report, please contact the Board at 770.866.1397.
*Each month, the numbers reported for the previous month are updated to reflect additional recordings.
About the Paulding Board of REALTORS®
The Paulding Board of REALTORS® (PBOR) has been an instrumental factor in the growth of real estate in Paulding County, Georgia for more than a decade. PBOR serves as a central source of information for its members, with mainly focusing on real estate education, the promotion of professionalism in the industry and representing REALTORS® members with legislative initiatives to create positive change for the real estate community.
About First Multiple Listing Service
First Multiple Listing Service (FMLS) is the premier data services provider for real estate professionals in Georgia. FMLS was founded in 1957 by a group of Brokers who wanted to share their listings and connect buyers and sellers. Today FMLS is the largest MLS in Georgia & the 4th largest MLS in the United States, serving nearly 54,000 real estate Agents & Brokers. For additional information or to start a discussion about how to partner with FMLS please contact join@fmls.com.