Former Mayor Sam Massell Speaks at RPAC Major Investor Luncheon
September 13, 2018
RPAC Major Investors were treated to a luncheon featuring former Atlanta Mayor Sam Massell. Members were taken on a journey through his time in elected office, career as a REALTOR® and given insight on the evolution and future of Atlanta. He also discussed his new book, "Play It Again Sam: The Notable Life of Sam Massell".
The Major Investor Luncheon is one of the many benefits our members who have invested $200 or more to RPAC during the 2018 PAC cycle receive. Previous speakers include U.S. Senator and REALTOR®, Johnny Isakson and Phil Kent & Jeff Dickerson of Fox 5's "Georgia Gang".
To learn more about the benefits of becoming a Major Investor contact Aaron Johnson, Government Affairs Director, at 404-732-0631.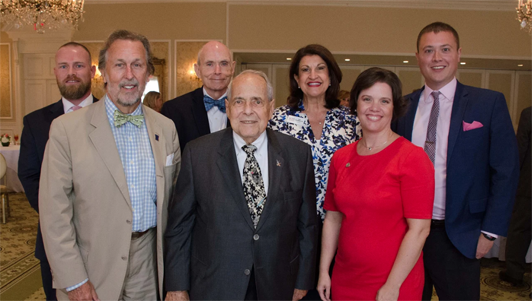 Former Mayor Sam Massell with ARA and ACBR leadership
About the PBOR Market Brief
The Paulding Board of REALTORS® (PBOR) Market Brief is compiled by First Multiple Listing Service (FMLS). For more information on details of this month's report, please contact the Board at 770.866.1397.
*Each month, the numbers reported for the previous month are updated to reflect additional recordings.
About the Paulding Board of REALTORS®
The Paulding Board of REALTORS® (PBOR) has been an instrumental factor in the growth of real estate in Paulding County, Georgia for more than a decade. PBOR serves as a central source of information for its members, with mainly focusing on real estate education, the promotion of professionalism in the industry and representing REALTORS® members with legislative initiatives to create positive change for the real estate community.
About First Multiple Listing Service
First Multiple Listing Service (FMLS) is the premier data services provider for real estate professionals in Georgia. FMLS was founded in 1957 by a group of Brokers who wanted to share their listings and connect buyers and sellers. Today FMLS is the largest MLS in Georgia & the 4th largest MLS in the United States, serving nearly 54,000 real estate Agents & Brokers. For additional information or to start a discussion about how to partner with FMLS please contact join@fmls.com.