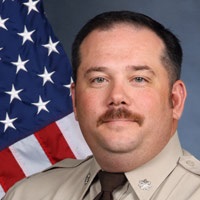 Bio
Career
Chief Deputy Chad Hunton graduated from Paulding County High School in 1996, after graduating he enlisted in the United States Marine Corp Reserves. After six years of service, he received an Honorable Discharge as a Corporal.

Paulding County Service
Chad Hunton began his career as a Detention Officer at the Paulding County Sheriff's Office in 1997. He was promoted to patrol Deputy and in December of 1998 was assigned to the Crime Suppression Unit. Chad was promoted to Sergeant in the Patrol Division in January 2001. In August of 2003, he was transferred to the Training Division as the Assistant Training Director. In September of 2004 he was promoted to Lieutenant and became the Director of Training in November. In January 2008 he was promoted to Captain and in April was transferred to the Warrants and Civil Division. In March 2010, Sheriff Gulledge promoted Hunton to Major and appointed him Chief Jailer over the Paulding County Detention Center. In July of 2014 Hunton was promoted to Lieutenant Colonel and was tasked as the Chief Administrator of the Sheriff's Office. In July of 2017 Sheriff Gulledge appointed Chad as his Chief Deputy promoting him to Colonel.

Chief Deputy Hunton also served as the SWAT Commander and was a member since its beginning in 1998 until July of 2017. He has also been instrumental in assisting and starting programs with the Sheriff's Office such as the Explorer POST 110 and the Neighborhood Watch Program. Colonel Hunton also started the Patrol Rifle Program and formalized our Field Training Unit.

Accomplishments
Chief Deputy Hunton is a graduate of Columbia Southern University with an AS Associate of Science in Criminal Justice and has over 5,000 hours of P.O.S.T. training and in service hours. He is a certified P.O.S.T. General Instructor, P.O.S.T. Firearms Instructor, Certified Glock and Colt Armorer, and chemical agent and less lethal munitions instructor. Colonel Hunton is also Certified Field Training Officer and Departmental Training Officer.

Personal Information
Chad is married and has five children; he is also a member of Mt. Zion Baptist Church of Dallas. He enjoys fishing and deer hunting along with spending time with his family and tending to their small farm.