Washington Learns "That's Who We R!"
May 23, 2019
Over 11,000 REALTORS® from across the country gathered in Washington, DC for the 2019 REALTORS® Legislative Meetings and Trade Expo. This meeting gives REALTORS® the opportunity to hear from industry leaders, exchange ideas and best practices, but more importantly to let members of Congress know "Who We R!"
DeAnn Golden, President of the Atlanta REALTORS® Association, led a delegation of local members in a series of meetings and discussions with Georgia's members of Congress and both U.S. Senators. Issues discussed on Capitol Hill included Fannie Mae and Freddie Mac reform, expanding Fair Housing protections, infrastructure improvements and meaningful flood insurance reform.
One of the biggest surprises was a visit by President Donald Trump. Mr. Trump addressed a packed crowd of REALTORS® for almost an hour. He discussed issues like HUD, GSE reform, opportunity zones and flood insurance; all issues important to REALTORS®. To view the President's speech, click here.
If you were unable to visit Washington, but would like to see the advocacy materials, click here.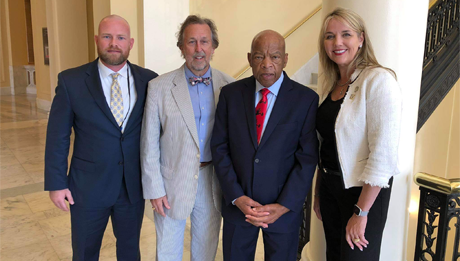 About the PBOR Market Brief
The Paulding Board of REALTORS® (PBOR) Market Brief is compiled by First Multiple Listing Service (FMLS). For more information on details of this month's report, please contact the Board at 770.866.1397.
*Each month, the numbers reported for the previous month are updated to reflect additional recordings.
About the Paulding Board of REALTORS®
The Paulding Board of REALTORS® (PBOR) has been an instrumental factor in the growth of real estate in Paulding County, Georgia for more than a decade. PBOR serves as a central source of information for its members, with mainly focusing on real estate education, the promotion of professionalism in the industry and representing REALTORS® members with legislative initiatives to create positive change for the real estate community.
About First Multiple Listing Service
First Multiple Listing Service (FMLS) is the premier data services provider for real estate professionals in Georgia. FMLS was founded in 1957 by a group of Brokers who wanted to share their listings and connect buyers and sellers. Today FMLS is the largest MLS in Georgia & the 4th largest MLS in the United States, serving nearly 54,000 real estate Agents & Brokers. For additional information or to start a discussion about how to partner with FMLS please contact join@fmls.com.