Hate Crimes Legislation Signed by Governor
June 28, 2020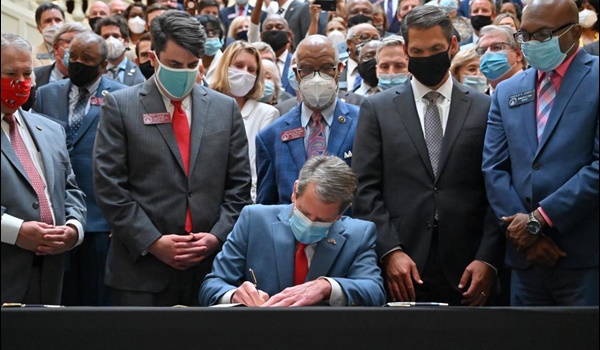 On the final day of the legislative session, flanked by a large, bipartisan group of State Senators and State Representatives from across the state, Governor Brian Kemp signed Georgia's Hate Crimes legislation into law.
In what was considered one of the most bipartisan legislative sessions in recent history and with support from The Atlanta Commercial Board of REALTORS® and the Atlanta REALTORS® Association, Governor Kemp moved Georgia forward in racial equality.
"There are plenty of disagreements and division, but today we stand together as Republicans and Democrats, Black and white, male and female ... to affirm a simple but powerful motto, Georgia is a state too great to hate," Kemp said.
This legislation will add additional penalties to crimes committed to protected groups once it is determined that the motivating factor is a victim's identity such as race, religion, sexual orientation or disability.
Both associations recently signed a Coalition letter for leading organizations to support hate crimes legislation on behalf of our nearly 13,000 members.
To read the H.B. 426, which was signed into law, click here.
For any questions, contact Aaron Johnson at (404) 732-0631.
About the PBOR Market Brief
The Paulding Board of REALTORS® (PBOR) Market Brief is compiled by First Multiple Listing Service (FMLS). For more information on details of this month's report, please contact the Board at 770.866.1397.
*Each month, the numbers reported for the previous month are updated to reflect additional recordings.
About the Paulding Board of REALTORS®
The Paulding Board of REALTORS® (PBOR) has been an instrumental factor in the growth of real estate in Paulding County, Georgia for more than a decade. PBOR serves as a central source of information for its members, with mainly focusing on real estate education, the promotion of professionalism in the industry and representing REALTORS® members with legislative initiatives to create positive change for the real estate community.
About First Multiple Listing Service
First Multiple Listing Service (FMLS) is the premier data services provider for real estate professionals in Georgia. FMLS was founded in 1957 by a group of Brokers who wanted to share their listings and connect buyers and sellers. Today FMLS is the largest MLS in Georgia & the 4th largest MLS in the United States, serving nearly 54,000 real estate Agents & Brokers. For additional information or to start a discussion about how to partner with FMLS please contact join@fmls.com.