ABOUT EVENT
Please join us virtually to hear Matt Difanis who served as the 2020 NAR Professional Standards Chair discuss the recent changes to the NAR Code of Ethics.
SPEAKERS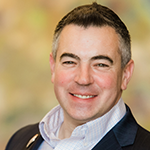 Matt Difanis, 2020 NAR Professional Standards Chair
Matt served as 2020 Chair of NAR's Professional Standards Committee, where he advanced a series of proposals that ultimately resulted in the addition of Standard of Practice 10-5 to the NAR Code of Ethics, a prohibition against REALTORS® engaging in discriminatory hate speech. Matt is 2021 Chair of the Professional Standards Interpretations and Procedures Advisory Board. He served as 2018 President of the Illinois REALTORS®. During his four years on his state leadership team, he gradually became aware of the industry's persistent shortcomings in diversity, equity and inclusion, and he committed himself to improving it. Matt has since won numerous awards for his work on fair housing and inclusion in the industry. Matt works full-time with clients in his home market of Champaign-Urbana, Illinois, where he leads a high producing team and is broker-owner of RE/MAX Realty Associates. Matt and his wife Angelle have two teenage children, Gabe and Izzy.