ABOUT EVENT
The Atlanta REALTORS® Association and Atlanta Business Chronicle are proud to present the 10th Annual Atlanta Real Estate Summit! This event showcases an analysis of market trends from 2020 followed by an informative discussion and focus on 2021 with economics guru Roger Tutterow, Ph.D. and Tayani Suma, Vice President, Real Estate for the Atlanta Neighborhood Development Partnership, Inc. Ms. Suma will provide an update on the state of affordable housing, upcoming projects, and what REALTORS® can do to help. The main focus of her segment will be down payment assistance, first time home buyers, and veterans.
Photo Highlights from 2020
Co-hosted by the Atlanta Business Chronicle and Atlanta REALTORS® Association.
SPEAKERS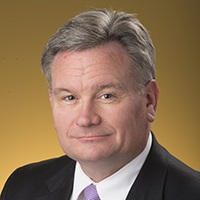 Roger Tutterow, Ph.D.
Roger Tutterow is Professor of Economics at Kennesaw State University where he holds the Henssler Financial Endowed Chair. In addition, he serves as Director of the Econometric Center, an applied research center housed in KSU's Coles College of Business.

His analysis of the economic, business and political environments have been featured in a variety of media including Wall Street Journal, Financial Times, Business Week, Forbes, USA Today, Atlanta Journal Constitution, Arizona Republic, Florida Times-Union, Kansas City Star, Los Angeles Times, New York Times, Orlando Sentinel, Palm Beach Post, Wichita Eagle and on CNN, CNBC, NBC, Bloomberg Television, NPR's "Marketplace" and "All Things Considered," CNN-Radio as well as by regional electronic and print media.
In addition to his work in academia, Dr. Tutterow has served as a consultant on financial economics and statistical modeling for corporate clients ranging from Fortune 500 companies to closely held businesses. He has provided expert testimony on economic, financial and statistical matters in state and federal court, before the Georgia General Assembly and before the Georgia Public Service Commission. Dr. Tutterow has given several hundred speeches to professional groups in over 40 states and Canada on topics in the economic, business and political arenas.

Dr. Tutterow served on the Council of Economic Advisors, under Georgia Governors Sonny Perdue, Nathan Deal and Brian Kemp. In 2010, he was named to the Special Council on Tax Reform and Fairness for Georgians, which conducted a comprehensive review of Georgia's Tax Code. In addition, Dr. Tutterow serves on the Georgia Child Support Commission, the Cobb County Public Employees' Pension Board and the Board of Trustees of Berry College. He previously served as Chairman of the Board of Directors of Vinings Bank, on the Southern Region Board of Directors for the American Red Cross Blood Services and the Board of Directors for Consumer Credit Counseling Service of Atlanta. He was selected by Georgia Trend magazine as a "notable Georgian" and as one of "Georgia's Most Influential" by James magazine.

A native, Dr. Tutterow holds a B.S. in Decision Science from and a M.A. and Ph.D. in Economics from . Prior to joining Kennesaw State University, Dr. Tutterow held faculty and administrative appointments at West Virginia University, Georgia State University and Mercer University. He has also served as a visiting professor at the University of the West Indies in Trinidad and at the Institute for Industrial Policy Studies in .

Tayani Suma
Tayani Suma is the Vice President, Real Estate for the Atlanta Neighborhood Development Partnership, Inc. ANDP's mission is to promote and create mixed income communities through direct development, lending, policy research and advocacy that result in the equitable distribution of affordable housing throughout the metropolitan Atlanta region. Ms. Suma oversees all real estate development and asset management activities for the company. She manages a diverse team that includes core staff as well as an array of consultants and contract employees.
Ms. Suma is a seasoned community development professional with over twenty five years of experience in community development. She has worked with various property types and many financing sources, including New Markets Tax Credits, Historic and Low Income Housing Tax Credits, taxable and tax-exempt bond financing, conventional debt and equity, Neighborhood Stabilization Program as well as other public and private subsidy and grant programs.